Welcome to the Heaven Besieged Wiki
Edit
This is about the Starcraft II Arcade Game "Heaven Besieged"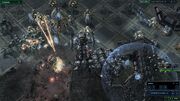 Here
is the basic strategy guide for everyone new to the game.
Also note, various religious texts and beliefs are used for the mere enjoyment and creativity of the map, for believers and non-believers of various religions and beliefs we put no claims to any such religions, therefore, do not feel offended in any way by the outcome of the game or the basis of the map.
Heaven Besieged
Edit
Heaven Besieged is a Starcraft II Arcade game made by Intanjir, which is based of the Starcraft: Brood War custom map Heaven's Last Defense
In it, the forces of Heaven and Hell battle for victory.  Hell must overcome Heaven's defenses and kill the Throne of God before God wakes up! Heaven must defend the throne until God returns to save them. God is very powerful and if in good hands, will end forces of evil's siege.
But be warned, even if God wakes up, Hell still has a chance of ending his might...
Make a more organized navi-bar that can include buildings and elites.
MORE PHOTOS.
A basic strategy guide that will explain to newbies the core mechanics of the game. Coming soon:
Perhaps a picture that shows/circles the hero & elite heals for good and evil sides
Basic strategies to employ as well as watch out for (Asta death ball, predators & zad, Jehoel's Train of Death, dark swarm, sammz hallucination trick etc)
Just realized, maybe in CAPS, BOLDED ITALICIZED AND UNDERLINED TELLING NEW PLAYERS NOT TO PLAY PRIME EVILS OR MESSIAH AND EMPHASIZE HOW MUCH THIS RUINS THE GAME O-o ;ASDFJAG LOUD NOISES!
Some basic info, such as what God is, a little explanation on how it's possible to lose him and tips on how to use/kill him
Maybe basic tips on how to improve (make sure to listen to veterans, most are extremely welcoming of new players and would love to help them learn!)
Recommended Control Groups included in hero roles
More "personal flavor" when editing. This wiki is for fellow players guys. It should be fun yet informative to read. Not boring and a grind.

Buhbuhbuhbuhb that IS how I write ;-;
Playable Characters
Edit
Buildings of Interest
Edit
Minor Buildings and Units
Edit
Latest activity
Edit